Hi folks, 
Just a quick note to let you know about a full-band show coming up on 16th March at 'Winchcombe Live' at the White Hart in Winchcombe, Gloucestershire. This will be the first outing for a new band line-up featuring Ian Jennings on bass and Garry Kroll on drums…I'm really excited to be working with these guys and we're looking forward to getting this first gig under our belts! If you're in or around that part of the world we'd love to see you there: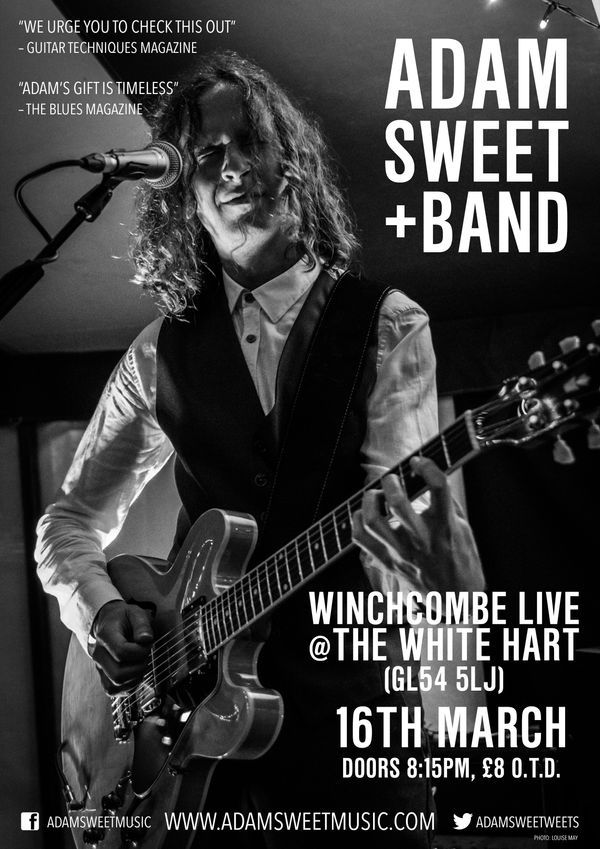 In other news for March I'll be playing solo gigs at the Thomas Tripp in Christchurch on Wednesday 7th, the Rum and Crab Shack in Exeter on the 17th, the Eyre Court in Seaton on the 18th, Café René in Gloucester on the 28th and the Blues Bar in Plymouth on the 29th.  
And after the first of our '1st & 3rd Thursday' shows at the White Hart in Colyford had to be cancelled due to the snow, it'll be back to business as usual there with Alan West & Steve Black on Thursday 15th. 
Full listings and all the details can be found on the website as always…keep in touch and I hope to see you out there somewhere soon! 
All the best, 
Adam