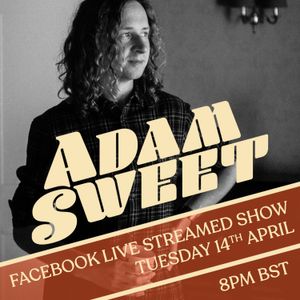 Hi folks, 
I hope you're all keeping well. I just wanted to let you know about a couple of shows I'll be streaming live this week from the comfort of my little home studio.  
Firstly, thanks to everyone who tuned in to my first attempt at one of these last Tuesday. I must admit it felt pretty strange at first, but it was a lot of fun once I settled into it and I was really blown away by the response and the incredible generosity in the virtual tip jar! It was great to be able to connect with so many of you. There were a lot of requests coming in too, so the plan is to do it once a week with the next one being this Tuesday 14th at 8pm. This also happens to be the second Tuesday of the month when I would usually be playing my monthly residency at Ebdons in Exeter, so hopefully some of the regular Ebdons crowd can join me too! If you'd like to tune in just go to https://www.facebook.com/adamsweetmusic/live at 8pm (UK time) on Tuesday. 
Also on Friday 17th April at 8pm I will be playing a "gig" at the Virtual Brook Inn! I have been playing regularly at the real Brook Inn in Plympton ever since it opened in 2014, where the landlord John Govier has always been a huge supporter of live music as well as working tirelessly to create a hub for the local community. So it's no surprise that in these difficult times John has come up with the genius idea of creating 'The Virtual Brook Inn', which has already played host to a bunch of gigs in the last couple of weeks. I'm really pleased to have been asked to play and you can catch this one on The Virtual Brook Inn Facebook page https://www.facebook.com/virtualbrookinn/
So two gigs this week…that's almost a tour!  
Also I hope to be able to update you on news of the album launch soon…obviously there's a lot of uncertainty hanging over all the plans we had for the release. As soon as I know what's happening I'll let you know, but the first single will be coming out on 1st May…more info on that soon! 
Thanks again for all the support. Keep in touch and stay happy and healthy. 
Adam x