Hi folks, 
I'm excited to be able to share some good news with you – my new single 'You or Me' will be released on Friday 1st May!  
This is the first single to be released from my new album and it will be available on all your preferred digital platforms and as a download from my website.  
Spotify, iTunes, Apple Music, Amazon and Google Play users can pre-save/pre-order the single now via https://distrokid.com/hyperfollow/adamsweet/you-or-me. You can download it direct from my website from 1stMay.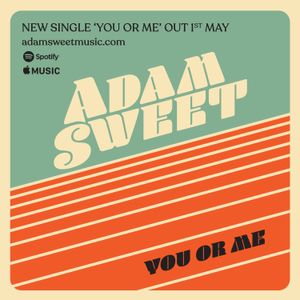 It feels great to finally be putting out some new music for you. It's been such a strange month and all the plans we had made have been turned upside down, including the album launch show on 12th June. This has now been postponed and we have tentatively pencilled in 23rd October as an alternative date for the show…I will of course keep you all updated on this. As for the actual album release, you wont have to wait till October for this but it's looking likely to be pushed back a little in the current situation…again, more info on this soon. 
Finally, a massive thanks to everyone who's been tuning in to the Facebook Live streams so far! It's the closest we can get to a gig for the foreseeable and it's been so lovely to still be able to connect with so many of you. I won't be doing one this Tuesday but will instead be going live on Facebook on Friday at 8pm to celebrate the single release that day…hope you can tune in for that one! 
Thanks for all the support and I hope you enjoy the new single when it arrives. 
Look after yourselves. Stay happy and healthy! 
Adam